SketchUp is software which is remarkable development. It is an invention which helps the users in developing 3D models and their drawings in architectures, apps, games and web. It is considered to be blessing for software developers, mechanical engineers, electrical engineers and civil engineers. In SketchUp, users can make drawings of their ideas in 2D as well as 3D models.
SketchUp Make:
The SketchUp make software explore design ideas and experiments. SketchUp Make is a FREE 3D Designing tool. This software is designed to draw, modify, measure, scale, move and rotate the geometry of models. It also uses accurate dimensions and text tools. The software can import 2D models in formats like .jpe, .png and many more. 3D models can be imported in format of .skp, 3DS and DEM. The software can be used for placing section slices for work on interior models. Bricks, woods and shingles can also be added to the models with SketchUp make. The software also provides opportunity to add pre made components like trees, windows, cars and doors. Use of organic modeling is also one of the prominent features of SketchUp make. Animations and walk throughs can be imported in this software in MOV or AVI file formats. Geo located models can be prepared on SketchUp make and can be added on Google Earth. Google Earth files can also be exported in KMZ formats. Users can create add on programs on it make by using Ruby program language.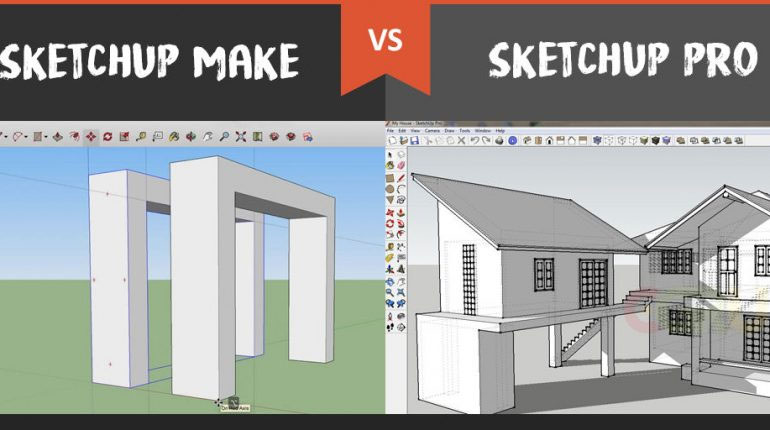 SketchUp Pro: SketchUp pro is commercial software which means it is not available for free. The software is equipped with new and advanced drawing and modeling features. One of the most wonderful features of SketchUp Pro is that it has an ability to read almost everything from 2D and 3D models. The projects can easily be shifted to SketchUp pro from other softwares. As compared to fee SketchUp software, this is much simpler and easy to use with flexible features. Drawing with SketchUp Pro seems like drawing with pencils. LayOut features and Style Builder tools of SketchUp pro are also enhanced. Supporting format of it is wider, files in formats 2D, 3D, 3DS, ACAD, IFC and DEM can be imported and read in it. BMP images can also be shared and displayed on SketchUp Pro. It also offers a trial period for students and beginners. Auto text tags are also available in SketchUp Pro which is not a feature of SketchUp Make. Page numbers and dates can easily be inserted in to the projects in this software.
Please follow and like us: