From the makers of the globe's number one 3D Modeling software, comes yet another revolutionary product. Trimble proudly announces a new version SketchUp 2019, which is now more useful to ensure that consumer needs are met. From diagramming, design development, programming, documentation, detailing and much more, SketchUp 2019 come in hardy. Being a simple-to-use software, it is no doubt that this 3D modeling tool is the perfect package for everyone. This time round, it has more to offer the end user on top of the pre-existing features that it initially came with. What Is Making SketchUp 2019 Popular Several things have made this software grow its popularity every day but the most notable of these factors is its efficiency and its functionality. For a matter of fact, many users have become followers of the program because:
1.It is simple to use
2.Has a user friendly interface
3.Supports fast drawing
4.Has different types of finishing, cross-sections, user-friendly interface, different ways to achieve the same results :by multi playing ,dividing, following, etc
5.Many unique features that the software come with. The special features that the software boasts of are amazingly excellent.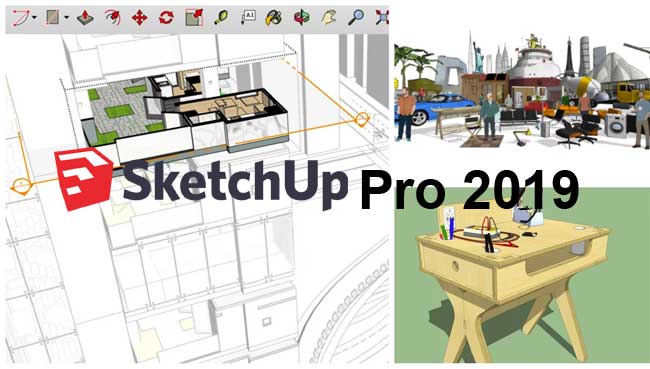 Take a look at some of them in the list below.
3D Modelling
2D Drawing
Document management
Project Management
Presentation Tools
Extensions -Textures
Photo import features
Sketching and Drawing tools
Customizable and very complete tools.
Pros: Simple to Use Reliable User friendly interface
Cons: Although the software comes with excellent architectural tools, it lacks a wall tool and house wizard, aspects that would otherwise give the program extra power on its overall architecture.
In Conclusion being a reliable, fast and easy to use 3D/2D modeling software, we all can agree that this is the perfect program for everyone. It is amazingly one of the most complete software's for design. Suitable for use by both beginners and advanced users like architectural engineers, it is absolutely the best software for 2019. Be among the first ones to use this amazing software.
Download Trial Version of SketchUp 2019
Please follow and like us: