SketchUp is available in Make (it is free and not intended for commercial application) and Pro versions (It is paid and designed for commercial application).
With the Pro version of SketchUp the design professionals get the ability to delve into and transmit complicated design ideas. Two exclusive design and presentation tools alias LayOut and Style Builder are included in SketchUp Pro. Diversified professionals who range from architecture, construction, engineering, commercial interiors, light construction, landscape architecture, kitchen & bath design, urban planning, game design, film & stage, woodworking, and several other fields, utilize this multi-purpose design tool in their projects.

SketchUp Pro provides the following features:

With LayOut feature inside SketchUp Pro, the design professionals can deal with their documentation in an efficient manner. The linear and angular dimensioning tools inside layout (that is snapped to the borders of SketchUp models) can be applied to instantly arrange the format, scale, and precision of demonstrated measurements. The callout tools inside layout can be easily tailored as per line weight, arrow and stroke style, curved leader lines, font formatting, line spacing etc.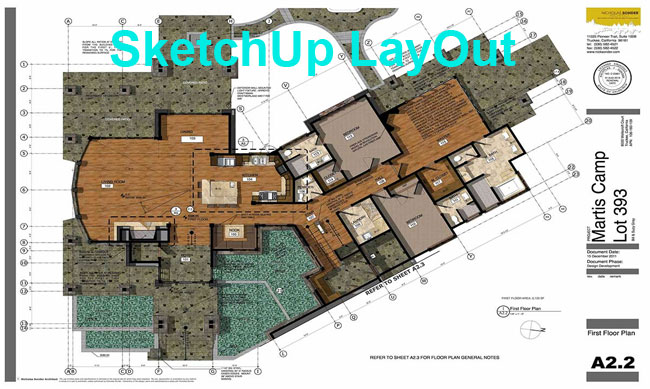 LayOut allows the users to put in model views to pages, opt for drawing scales, modify line weights as well as affix dimensions, callouts and graphics. Any modification in sketchup model, is automatically reproduced in LayOut. The users can also export multi-pages PDFs, raster images in Jpeg, Png and tiff formats as well as export pages as DWG and DXF files (CAD format).
The line tool in LayOut contains inferencing capabilities. The shapes drawn with LayOut, includes editable paths which make any curve considerably adjustable. All the drawings become vector smart, scaling and rotating is accomplished with perfect measurements.
Each generated LayOut document contains a physical paper size already defined at initial phase of the project. In this regard the user has to print a plan view of its model at perfect scale and arrange a model viewport, and select File > Print. Select from raster, vector or hybrid rendering modes based on the information included in your model viewport. To deal with physically outsized or linework-intensive views, vector mode offers sharp edges and speedy rendering times. The users can opt for raster mode provided their viewport consists of materials and complicated styles, and it isn't very outsized. In order to get flatten lines and rich textures and shadows, hybrid mode provides the best solution.
With LayOut, SketchUp model views can be inserted anywhere on the pages of the document. These "viewports" denote animated, breathing views of the sketchup model. All the viewports are updated automatically with the modifications in the sketchup models.
The documents and presentation slides are identical in LayOut and the users don't have to create an entirely you'll never need to build a completely separate slide deck. LayOut can transform into Presentation mode at any time, empowering the users to present their work on screens in 3D containing various sizes. In order to orbit, pan, zoom, and walk through for the demonstration, just click twice on embedded models. LayOut can also provide a 3D animation throughout the full-screen presentation.
Arrange viewports in LayOut to demonstrate most or least part of your model according to your choice. Opt for presenting a saved Scene out of your model, or orbit, pan and zoom to identify the required angle. De-active perspective, choose a standard orthographic projection (top, side, and front) as well as allocate a perfect drawing scale to produce customary plans, sections and elevations.
How to use LayOut in SketchUp Pro:
One of my favorite book is "SketchUp to LayOut Book" by Matt Donley. This guides you step by step with real project work examples inside. Really an excellent book for learning LayOut and SketchUp Pro.
Please follow and like us: