If you're serious about solar energy and efficiency projects, Archelios PRO for SketchUp is the best PV simulator plugin on the market today. Photovoltaic construction projects are one of the newest energy developments of the past few years, and whether you're a company or a customer, you want to be on the cutting edge.  
The Archelios PRO plugin offers another great layer to a quality modeling program, allowing you to insert photovoltaic modules into your existing models and calculate solar radiation. This program is touted as one of the most precise PV simulation software out there, and it certainly lives up to that title.
The plugin for Sketchup takes your 3D models and allows you to analyze the energy potential of your building, or easily transfer the model to the Archelios software to take advantage of Archelios Calc, where the software calculates everything needed to bring your project to completion.   As far as the software goes, it has all of the features that you would expect from a modeling software, but with lots of added features that allow you to customize all of the most energy-centric features, including location, environmental factors, and what aspects you are seeking to maximize with your design.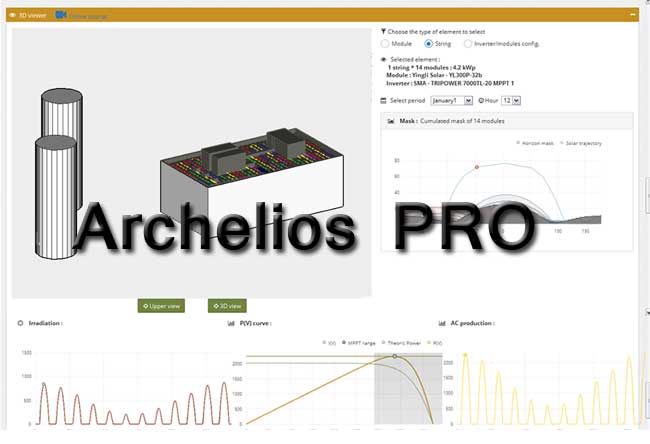 There are over 10000 different energy units in the software database, and Archelios makes it easy to arrange and rearrange, configure, and swap, to find the design that maximizes your energy goals. By transferring the design from Sketchup to Archelios PRO, you can even use the software to predict production and revenue in a variety of scenarios. The imaging is high-quality and professional, with 3D shading options and the ability to zoom in on minute details. 
The Archelios PRO is super-accurate and intuitive, it has the capability to sync across multiple devices, in multiple programs within the software series, and takes the guesswork out of planning a solar energy project.
To get a free trial and read more about Archelios PRO, please visit its official website here
Please follow and like us: