Now a day, one of the best 3D engineering extensions for SketchUp is 3skeng 2019. It is workable in Trimble SketchUp. If you are among a professional in the fields of design and documentation – 3D Steel structure, Pipping, Mechanical, Electrical and Plumbing – the 3skeng is for your use.
SHK, one of the pioneering engineering and consulting company makes 3skeng 3D engineering software, which has spread to Asia, Europe and United States. The ultimate goal is to create 3D engineering smoother and sharper.
As per pronunciation, 3 is a number that pronounces as 'three'. The 'sk' is derived from SketchUp, and 'eng' has been taken from engineering. So, the total thing becomes 3skeng.
The 3D professionals or the SketchUp experts are always looking for some extensions which are easy to use and a varied range of functionality.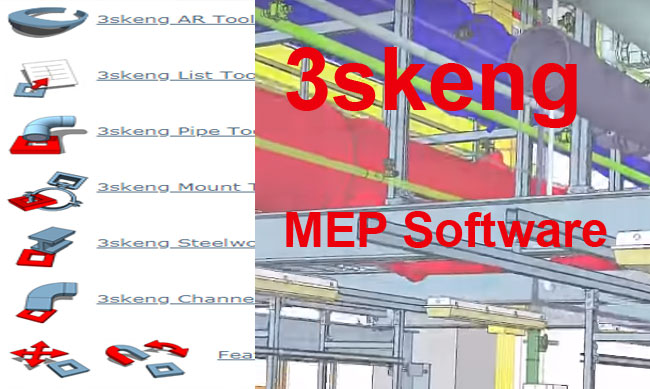 Here in 3skeng, these qualities are hit-the-list in market.
The 3skeng is a spontaneous extension for documenting and designing of 3D piping, steel structure and MEP.
There are many areas in the building technology where 3skeng gives its pioneering service.
Best of those technological areas are:
1.Steelwork – grille or structure of building
2.Pipe-fitting
3.Ventilation
4.Electrical-tray-mounting, semi-conductor, solar-opto electronics
5.Exhust system
6.Waste water technology
7.Energy and food
8. Bio-chemical, pharmaceutical
9. Petrolium
10. Water Treatment Industry
11. Ship-Building
12. Life Science
The downloading of 3skeng 2019 is not complicated. It needs some easy steps to complete only.
3skeng 2019 includes some features which always help to make changes or edit in the design or structures.
One of such thing is 3skeng 2019 Client which is a control interface – make an easy admission to libraries, settings, standard etc. By the edit and rotate tool, the users can alter the model as per their wish. However, by the connect tool, the user can copy or reorganize pipeline structures.
For more information and get a trial version, please visit here
Please follow and like us: